10-ton single-girder bridge crane Belarus customer praise feedback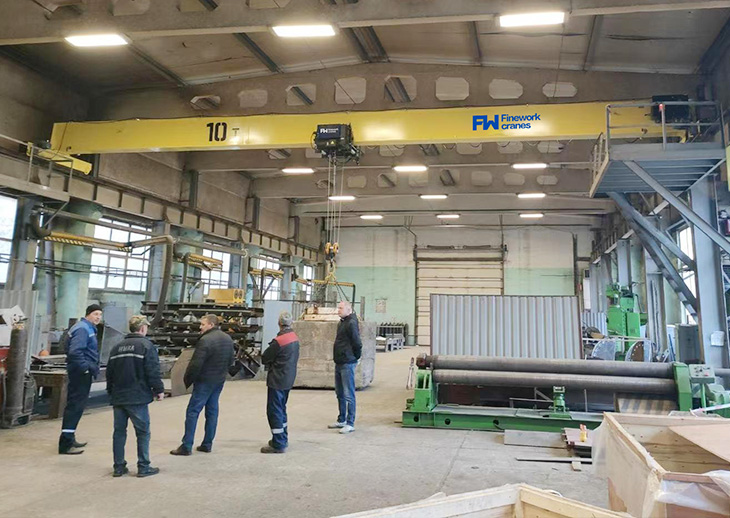 10-ton single-girder bridge crane Belarus customer praise feedback


In July 2022, customers made inquiries and purchased our products (single-girder bridge cranes) in August. In July 2023, we suddenly received good feedback from customers. Customers have been emphasizing how good our products are, and they are very important to us. The product has given a great evaluation, and we are also very grateful to our customers for their recognition. The customer's praise is the greatest recognition of our company. Because of your support, we can only have what we are today. Thank you for every evaluation!
Single-girder bridge crane is an important tool and equipment to realize the mechanization and automation of the production process in modern industrial production and lifting transportation. Therefore, single girder bridge cranes are widely used in indoor and outdoor industrial and mining enterprises, iron and steel chemical industry, railway transportation, port terminals and logistics turnover and other departments and places.

Single girder cranes have the following 6 advantages:
1. It has the characteristics of simple structure, light weight, flexible movement, convenient hoisting and wide application range.
2. Single girder cranes are suitable for handling, loading and unloading and installation of various items, such as factories, warehouses, docks, stations and other places.
3. The single-girder crane is easy to operate and easy to master, which can greatly improve work efficiency and reduce manpower and material costs.
4. The single-girder crane is made of high-strength alloy steel, which is durable and has a long service life, which can greatly reduce maintenance costs.
5. The single-girder crane has height and width adjustment functions, which can be adjusted according to different work needs, making the operation more flexible.
6. The single-girder crane complies with relevant national standards and regulations, is safe and reliable to use, and can effectively improve the safety of the workplace.
In a word, the single-girder crane is a kind of lifting equipment with a wide range of applications, which has many advantages and advantages, and can provide efficient, safe and reliable solutions for various industrial production and logistics transportation scenarios.

Customers who need to purchase single-girder bridge cranes can pay more attention to lifting. Our family has many years of production and sales experience in crane manufacturers. The reason why it is recognized by the majority of customers in the market is because this manufacturer has four core advantages and has gained a large market share. Whether it is in the production process of the product or in the process of selecting raw materials for the product, it has gone through layers of checks to ensure the quality of the product, and the manufacturer also has a complete after-sales service system, which also increases the stickiness of customers to a certain extent. , It also improves the visibility and reputation of the manufacturer. Moreover, the price is relatively transparent. The specific price will be charged according to the specifications and models of the mechanical equipment, and it will also be customized according to the needs of customers to meet the diverse needs of the market.