Control system of Bridge Crane
Control system of Bridge Crane
1. Pendant control - Most bridge and gantry cranes are controlled by a pendant push button control suspended from the crane structure. The controls are normally push button. Pendant controls usually have:
They may also have a creep speed control allowing for smooth acceleration and deceleration. A Variable Frequency Drive (VFD) is used to vary the frequency of the motors controlling the motions. The buttons on the pendant operate a VFD unit operated in much the same way as 'Two Speed control'. The control provided by a VFD allows for a high level of customization.
The pendant may be suspended from the trolley hoist, requiring the operator to walk with and beside the load, or on a separate sliding track system allowing the operator to move independently of the load. The bottom of the control station shall be approximately 48 inches (1,220 mm) above the operating floor level. A limit switch shall be provided to prevent power from being applied to the crane travel motor when the crane track beam is interlocked to a fixed track beam.
The pushbutton station shall be grounded to the hoist and crane bridge. A strain-reliever chain or cable shall not be used as a grounding circuit. Pushbuttons shall be designed to transmit a distinct notch or step feeling to the operator for each pressure or release action on hand-controlled speed points.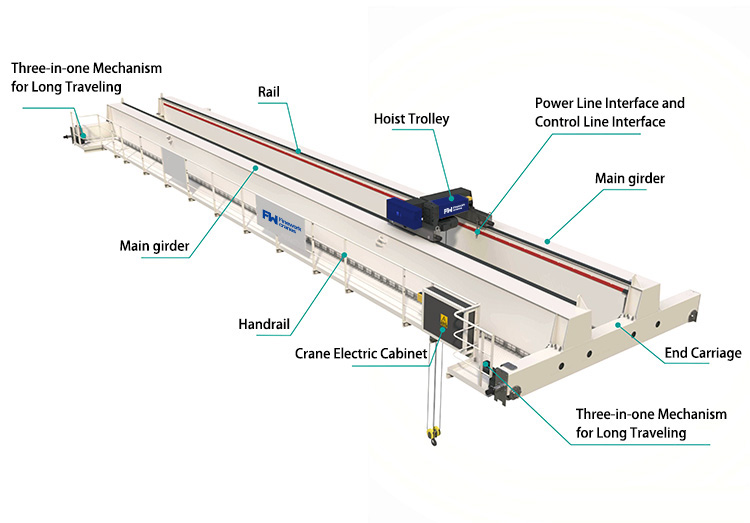 2. Cabin controls - Most modern cranes have joy sticks to control the movement of the hoist, the long travel and cross travel movement and the raising and lowering of the hook. Cabin controls are used for a wide range of applications particularly where it is not possible to have a clear walkway or where the driver must be protected. For example, in the steel industry the driver must be kept away from the intense heat of the molten steel transported by the cranes.
3. Remote controls - Remote controls can be either infrared or radio controlled. The radio control performs exactly like the pendant but operates using a radio frequency. The radio control incorporates numerous safety features and allows the operator a greater range of operator motion than a pendant. Radio control shall be from a portable console and shall preferably utilize 'Ethernet' communications for the link. As a backup to radio control all crane functions shall also be controllable from the pushbutton station. Both infrared and radio controlled remote controls have a limited range. Infrared controls must be pointed towards the crane during operation or the crane will stop.