Product Description
Product Description
European winch trolley is with higher work duty, which can reach A7, A8.Large tonnage, such as 50 ton, 80 ton, 100 ton ,200ton,ect.
It is of advanced technology, based on international standard: FEM (Europe), DIN (Germany), ISO(International), equipped with many advantages such as: strong rigidity, light dead weight, low power, outstanding structure design etc. Of top configurations, such as Schneider electric ements, ABM / SEW/Siemens triple gear motor (three in one: motor, gear box, brake), galvanized high strength wire rope, self-adjusted disk brake, hard tooth reducer, programmable lifting limit switch, and so on
It applies light weight design, direct acts the lifting load on end carriages of trolley frame both sides. With clear force and compact layout, it has high driving efficiency, low noise, low crane height and low dead weight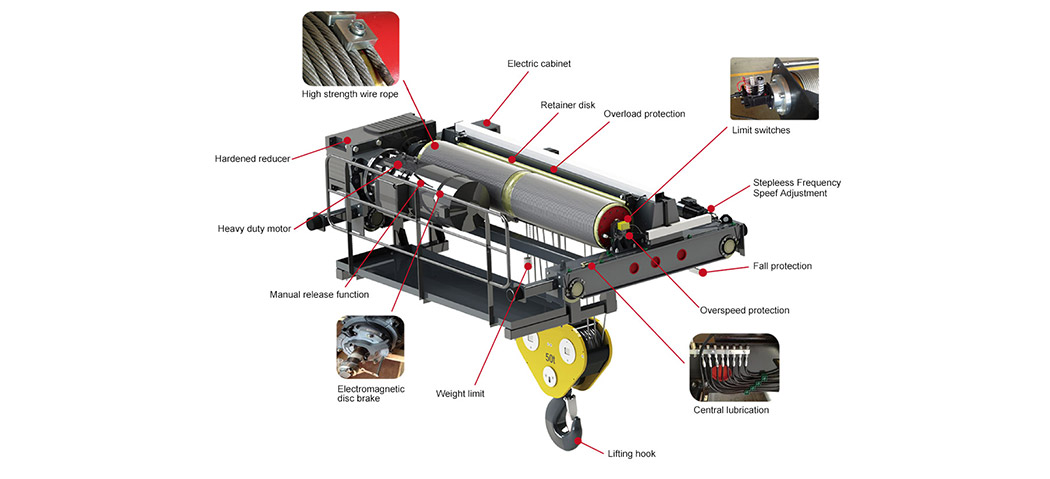 Trolley Traveling Mechanism
It is of triple compact design of motor, reducer, brake. The motor is of F insulation class, IP55 protection class, 40% load continuity rate; with thermal protection, power-distribution magnetic disk brake and reducer with hard gear surface which has been grinded or gear shaved. It's not necessary to replace the oil in gear box during the work lifetime.
It has forged wheels, wheel rim and the hardness of tread surface of HB330-380.
It adopts the VVVF control speed---low speed at heavy load, fast speed at light load; adjusting range is 1:10; with stable traveling, no impacting.
Trolley Limit switch adopts the cross type traveling limit switch, which can reduce the speed to zero before the collision of buffer with blocks of the rail end.
Lifting Mechanism
It adopts three-pivot installation form; both ends of reel directly support the end carriages of trolley frame; pulley beam connects end carriages on both sides through bolts to form longitudinal beam. Output shaft of reducer should be coordinately connected to outstretched reel shaft. The elastic coupling can be applied to hoisting motor and reducer.
1
Welding Reel. It is made of short shaft steel plate rolling, with bearing bases on both ends, one of them outstretches set shaft, of which structure is simple and easy for adjustment and installation.
2
Hight-strength galvanized steel rope. With breaking force of 1870kn/mm2, it's not necessary to get it coated with rustproof oil and maintenance-free.
3
Lifting motor. It adopts the frequency conversion motor, which is optimized air-cooling type, with insulation class F and protection class IP55, and power continuity rate 40%.
4
Lifting reducer. It gets the tooth surface carburized and hardened, with hardness of HRC60, and also has been grinded or gear shaved, with light deadweight, good sealing and no leakage.
5
Lifting brake. The regular closed brake has automatic abrasion compensation function which can manually release under emergency station through separate manual operation. If necessary, two brakes could be allowed to install.
6
Hook group. It consists of hook and pulley. The hook material is DG34CrMo. The pulley material is Q235 hot-rolling. It adopts anti-friction roller bearing, the hook can be 360degree rotation. It is equipped with spring-pressed safety lock, preventing from slipping off. All pulleys use maintenance-free bearing, the design can efficiently prevent abrasion between steel rope and pulley shell. It has delicate overall structure and volume as well as nice appearance.
7
Lifting Limit switch. It is of cam rotary type, 4 steps adjusting, up and down limitation, auto-resetting, safe and reliable. The lifting pre-limitation can reduce the impact; extreme limitation can avoid the hook from over-lifting.
8
Electrical Box. It is of IP55 protection class, air plug and fast-easy installation; Schneider/Siemens electrical kits, etc
Configuration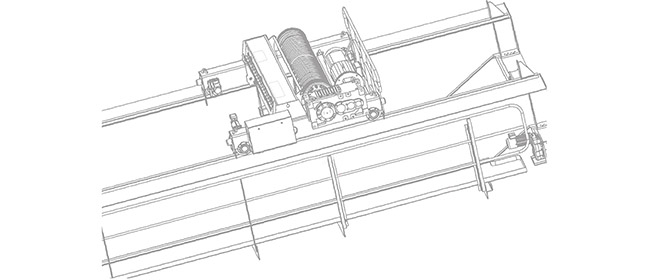 Inquiry
If you would like to contact us for more information about our products, please fill out the form below, thank you.