Product Description
Product
MG Double Girder Gantry Crane (Box-type) is composed of gantry, crane crab, trolley traveling mechanism, cab and electric control system, and the gantry crane can be Box-type or Truss-type structure. The track is at the side of each girder and the leg is divided into type A and type U according to user's requirements. The control method could be ground control, remote control, cabin control or both.
Features
3
Smooth starting and stopping
4
Safe and reliable traveling
5
Low noise, commodious cabin and good view
6
Convenient maintenance, excellent exchange ability for parts and components
7
Saves electricity specifications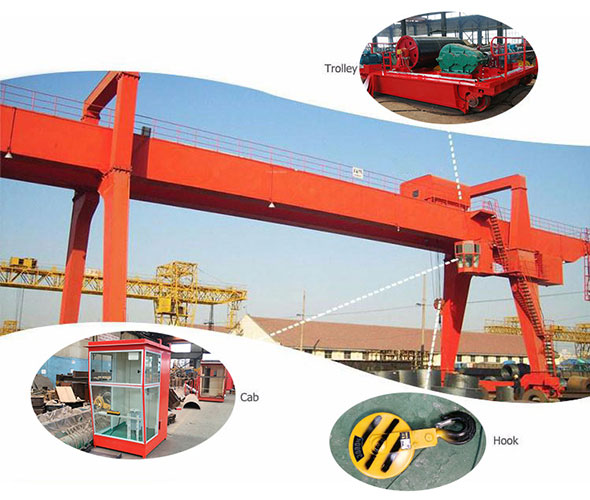 Trolley
Double Girder Gantry Crane With CD/MD Hoist
The trolley are assembled with motor, reducer brake, trolley frame, drum hook, pulley, rain cover and other parts. It includes lifting mechanisms cross traveling mechanism. The trolley is strictly designed according to the application and working environment.
Girder
Main beam will have sandblast derusting and and painted with zinc rich epoxy primer.
Main beam is cut by plasma numerical control cutting machine.
The butt weld of tension flange shall undergo ultrasonic or x-ray flaw detection as specified.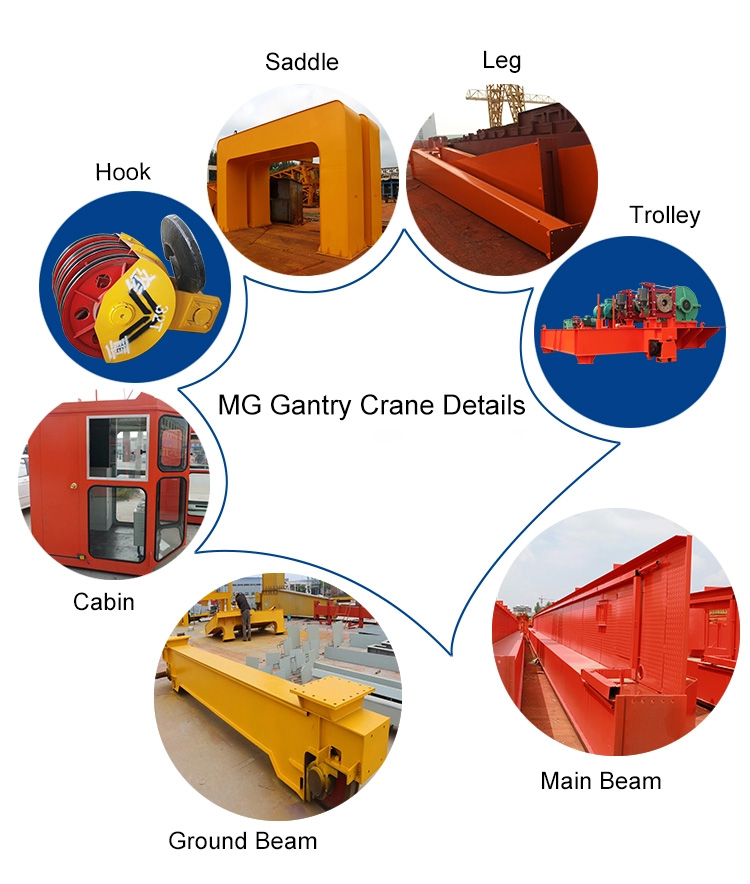 Specifications
1
Double Girder Gantry Crane With CD/MD Hoist
2
Lifting capacity: up to 500ton
3
Lifting height: up to 30m or customized
5
Working temperature: -20 to 40 degree C
7
Power supply: 220~440V, 50/60HZ,3 phase by cable or slide wire
8
Control method: pendant control, remote control or cabin control.
Technical Parameters
Capacity
t
50/10
75/20
100/20
Span
m
7.5-31.5
Lifting Height
Main hook
m
12
2202
22
Aux.hook
m
16
22
22
Operation method
Pedant control,wireless control,cabin control
Speed
Lifting
Main hook
m/min
5.9
5.5
3.53
Aux.hook
m/min
13.2
9.23
7.2
Cross travel
m/min
38.5
38.4
33.86
Long travel
m/min
74.6
65
65.6
Lifting mechanism
type
Electric winch cart
Working class
A5,A6,A7
Power supply
AC
220/380/400/415/460V,50/60Hz,3P
Product Application
Double girder gantry cranes are suitable for large span, frequently loading and unloading railroad freight yard, the port, open storage, container depots etc. applicable to long, large, bulky cargo and container handling operations.
Inquiry
If you would like to contact us for more information about our products, please fill out the form below, thank you.