Product Description
LH-Double Girder Electric Overhead Crane is bridge crane with hook, suitable for indoor or outdoor fixed cross inter-cropping handling and transport work. Lifting capacity range 3T-50T, and it consisted with double girder bridge mechanism, traveling mechanism, trolley with frame and electrical parts and The lifting mechanism is equipped with CD/MD electric hoist with frame. Compared to single girder overhead crane, its structure is stronger, more secure use, so double girder overhead crane lifting capacity is larger.
Operation mode can be selected for ground operations, remote operation, and driver's cabin according to the specific circumstances. Because of big span, large lifting capacity, high lifting height, usually more use driver's cabin operation.
Main application fields include: Machinery manufacturing, metallurgy, petroleum, petrochemical, port, railway, civil aviation, food, papermaking, construction, electronics industries, workshop, warehouse and other material handling situations which need precise positioning, large components precise assembly.
Features
1
Simple and compact structure: box girder with electric hoist;
2
Easy and flexible operation: wireless remote control, pendent line handle or driver's cabin;
3
Fast moving speed, high working efficiency;
4
Different slings for lifting loads could be equipped to suit different situations;
5
Fast delivery and convenient installation;
6
Reasonable design and reliable quality;
7
Good price with good after-sale service;
Technical Parameters
The general details of electric hoist overhead crane

Span(rail to rail center)

7.5m~35m

Lifting height

6m,9m,12mor other height

Capacity

5t

10t

15t, 16t

20t, 25t

30t, 32t

40t, 50t

Lifting speed(m/min)

8, 8/0.8

7/0.7

3.5,

3.5/0.35

4, 4/0.4

3, 3/0.3

2, 2/0.2

Cross travelling speed(m/min)

10, 20

10, 20

10, 20

10, 20

10, 20

10, 20

Long travelling speed(m/min)

20, 30

20, 30

20, 30

20, 30

20, 30

20, 30

Duty Class

A3/A4

Power source

380V, 50HZ, 3 phase (or other standard)

Working temperature

-20~40℃

Control model

Pendant pushbutton control, cabin control or remote control
Relate Parts of Electric Hoist Overhead Crane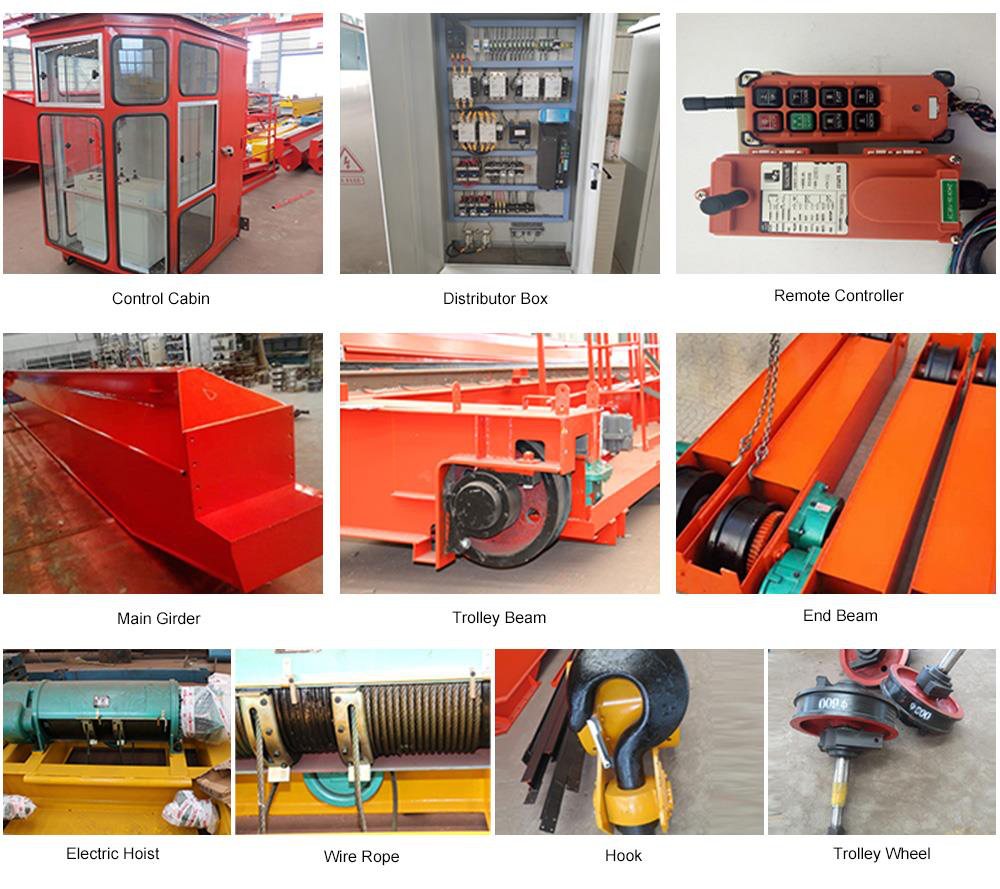 Inquiry
If you would like to contact us for more information about our products, please fill out the form below, thank you.