Product Description
This QB explosion proof bridge crane work together with a BCD explosion proof electric hoist. The structure equipped with sealed cover,it has strong explosion proof ability.The lift capacity is 5ton-32ton.Span length is 5-40m. Work duty A3-A4,working environment temperature is -25~ 40℃.
Explosion proof grade is : Exd II BT4, Exd II CT4.It can work in combustible, flammable, explosive, heavy dust factory, warehouse, yard and other places corrosive environment.
All machines and electric appliances of QB model Explosion-proof Double Beam Overhead Crane with hook conforms to the regulations of GB3836.2-2000 Explosion Proof Electrical Apparatus for Explosive Atmosphere Part two: Flameproof Type;
The performance of crane satisfies demands in JB/T5897-1991 Explosion-proof crane.
The Explosion-proof Double Beam Overhead Crane with hook is qualified inspected by inspection unit of blast-proof product which is appointed by the state;
The Explosion-proof Double Beam Overhead Crane with hook has got Certification of Conformity of An Instrument for Explosive Atmosphere.
The signs of explosion proof are ExdⅡBT4 and ExdⅡCT4 respectively.
Mechanism
2
the girder is connected by high strength screws;
3
welding seams are tested by high strength screws;
4
Main girders are tested by X-ray and ultrasound;
5
epoxy zinc-rich primer, and the thickness of oil film is 140 μm;
6
Forged wheels ,hardened gears and reliable disc brake;
7
Compact reducer motor drive, stepless control;
8
Compact structure, small volume an light weight trolley;
9
Good operation performance,stepless speed regulating and running smoothly.
Technical Parameters
Lifting capacity(t)

16/3.2

20/5

32/5

50/10

Span (m)

10.5-31.5

Lifting height (m)

Main

16

12

16

12

Auxiliary

18

14

18

14

Speed

(m/min)

Hoisting

Main lift

3.6

2.7

2.6

1.9

Aux lift

3.8

3.7

3.7

3.37

Trolley traveling

10.3

10.3

9.8

8.9

Crane traveling

12.5/12.6

12.5/12.6

12.6/12.3

12.3

Explosion-proof mark

Exd II BT4, Exd II CT4

Working class

A3-A4

Power supply

380v,50hz,3phase or customized design
Component
Safety Protection Devices
Overload limiter, limit switch (lifting and traveling ),interlocking protection devices, buffer, track sweep plate shield,bus bar protection board, anti-collision device,main disconnection switch,emergency stop system and motor load protection.
Electric System
1
Reasonable components installation ,convenient for check and maintenance;
2
electric cable is suspended in cable saddle, stationary cable trolley which slides on a galvanized C-type steel;
3
Power supply through stepless slide lines;
4
Lifting mechanisms and traveling mechanisms are mutually independent and could travel at the same time
5
Control panel protection degree is IP54;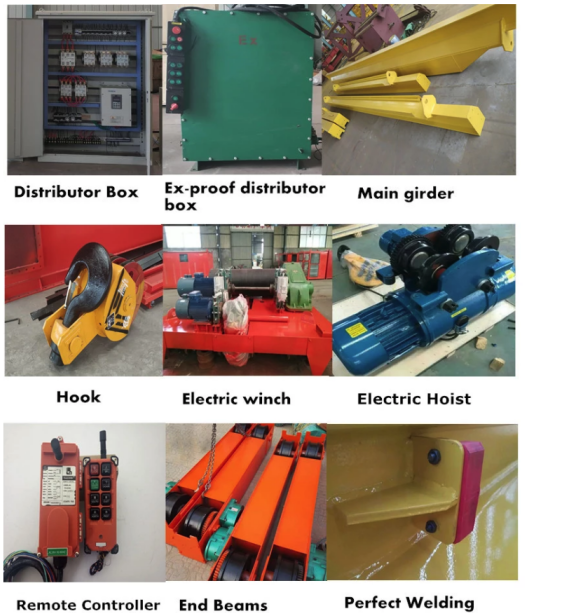 Inquiry
If you would like to contact us for more information about our products, please fill out the form below, thank you.