Product Description
Product Description
The wall traveling jib crane is light duty hoisting equipment, which has been developing rapidly recent years. This wall traveling jib crane performs superorly in short-distance and intensive lifting operation. It is mainly composed of electric hoist, swing arm, driving device and end beams.
The wall traveling jib crane is widely used in warehouse, workshop, assembly line and so on.
The hoist , lifting mechanism, runs under the bottom flange of the swing arm and the arm runs along the rails installed on the wall, so that the wall traveling jib crane is able to lift and move materials in a large three-dimensional space.
Features
1
Installation with high strength bolt connection;
2
Convenient in operation,safe and turn to flexible;
3
Low noise,commodious cabin and good looking;
4
High quality and efficiency, competitive price;
5
Reasonable and simple whole structure,Light self-weight, conform to the state standards;
6
Inexpensive handling systems doesn't require modification of the building structure around.
Technical Parameters
Type
BZ0.5
BZ0.5
BZ0.5
BZ0.5
BZ0.5
Lift Capacity (t)
0.5
1
2
3
5
Max. Lift Height(m)
3
3
3
4
4
Slew Angle(0)
360
360
360
360
360
Lift Speed (m/min)
Normal
8
8
8
8
8
Slow
0.8
0.8
0.8
0.8
0.8
Level Travel Speed (m/min)
20
20
20
20
20
Slew Angular Speed (r/min)
1
0.75
0.7
0.9
0.6
Main Features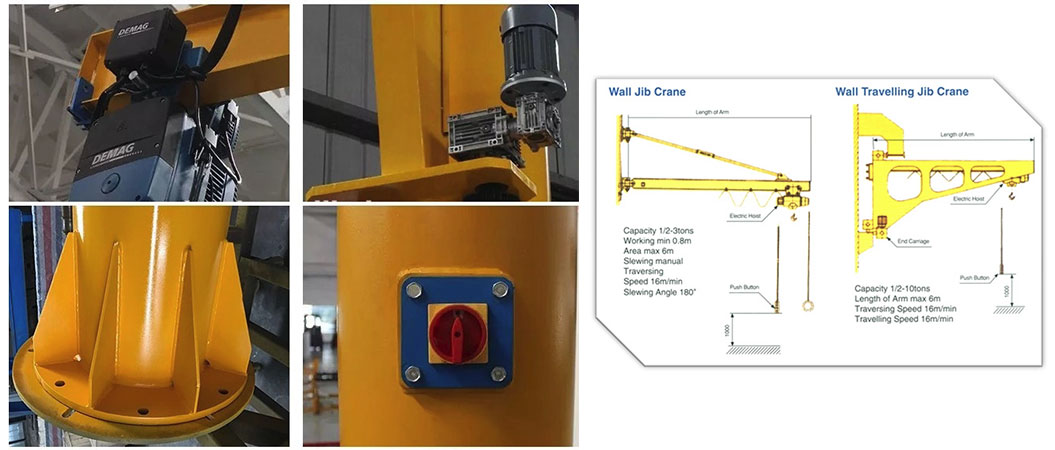 Inquiry
If you would like to contact us for more information about our products, please fill out the form below, thank you.